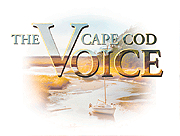 July 4 - July 17, 2002 Vol. 2 No. 5 Page 45

SHOUT OUT: The emotional paper chase.
When,three years ago, Nancy Rubens (uninvited) brought her work to show Sally Nerber, director of the Cherry Stone, Wellfleet's most respected gallery, Nerber warned Rubens that she was not taking any more artists. But when Rubens took out the work to show anyway, Nerber told her, "These really should be seen" and has carried Rubens' work since.
Warning to other artists: Do not try this yourselves. Yet every once in a while an artist comes along whose work reveals sophisticated and consistent awareness that can't be dismissed. Rubens' work, which was inspired by Provincetown's Leo Manso's teachings and developed over years of exploration, requires of the viewer a certain tuning in to the subtle decisions she's made at each step along the way. Inspired, as she says, by "the infinite range of possibilities in found papers," Rubens collects from the world around her, thin, red Chinese papers, sheets from old books and music, then searches out the rich contradictions, the links, "what is hidden, what is seen, what's softened, where the deep color is," made by paper against paper. She looks to express multi-levels of emotion and metaphor in pure abstraction.
Her latest compositions are layered planes drifting, some web-like, some sharp, some boldly shot through with scarlet and flamingo, all turning on the implicit gentle movement of rectangles circling on an axis. We highly recommend falling under the spell of this artist's studied and precise choices.
Nancy Rubens opened at Cherry Stone Gallery July 2, and remains up through July 13.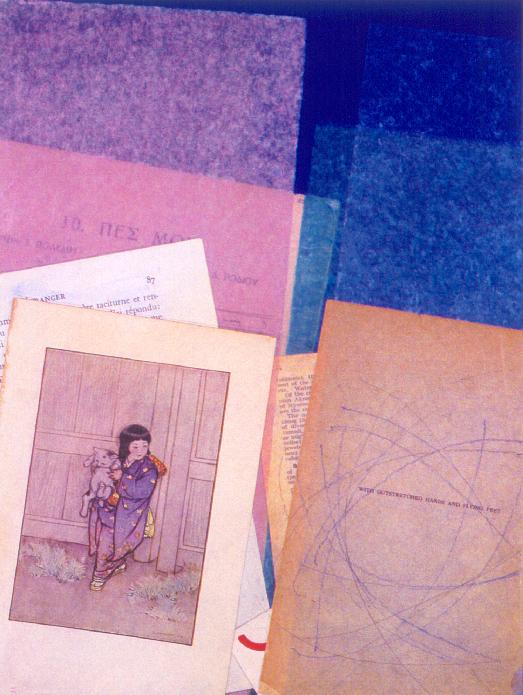 PRECISION MEETS INTUITION: With Outstretched Hands
Mixed media collage by Nancy Rubens.

Return to Art of Nancy Rubens homepage.